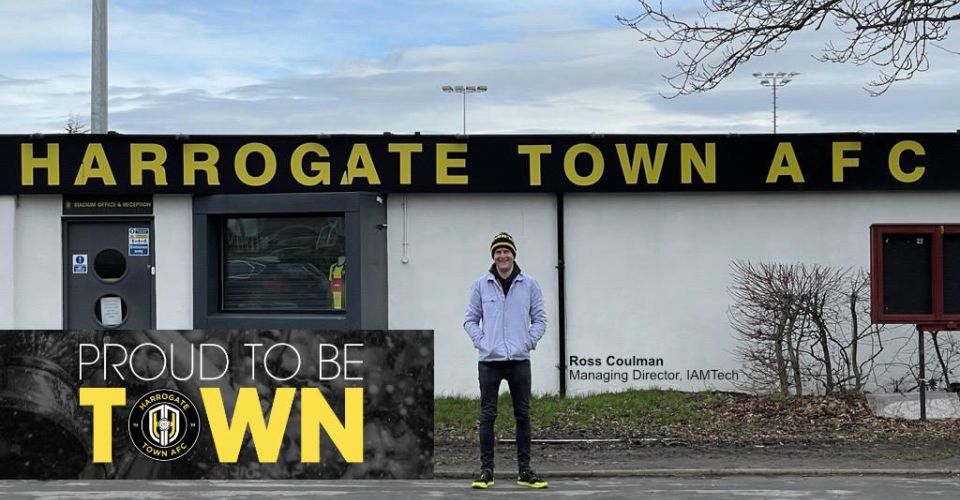 When we asked, 'is sponsoring a local football club was a good idea?', the team at IAMTech came up with a resounding YES!
There were many reasons for this, but the main one was that we are all big football fans and are passionate about supporting our local teams and community.
Harrogate Town Association Football Club is a professional association football club based in North Yorkshire, England. The club currently competes in League Two, after winning the 2019–20 National League play-offs.
Harrogate Town is making history as the first EFL club ever to play in the FA trophy. Since promotion to the EFL in August 2020, the club has seen a significant growth in exposure.
The club also give back to their community in a big way through the Harrogate Town Community Foundation who have a mission to motivate, educate, inspire and empower all people to achieve their potential. An example of this is their Premier League Primary Stars programme, which inspires children to learn, be active and develop important life skills.
MD, Ross Coulman, a fan of the Harrogate Town Association Football Club said:
"We are incredibly proud to be able to sponsor a local club who are doing so well. The club's passion does not end with football, they also do great work to support our community through the charity work they do. As a local business, I believe a club does something so inspiring, the least companies like ours can do is support them. Can't wait to watch them play again!"
Garry Plant, managing director of Harrogate Town AFC added:
"The support that we receive from companies such as IAMTech and the business community from Harrogate and further afield is a significant foundation block in the club's finances. This season, we have managed to secure EFL status. Our next goal is promotion to move into League one. We are absolutely desperate to see fans back at the grounds."