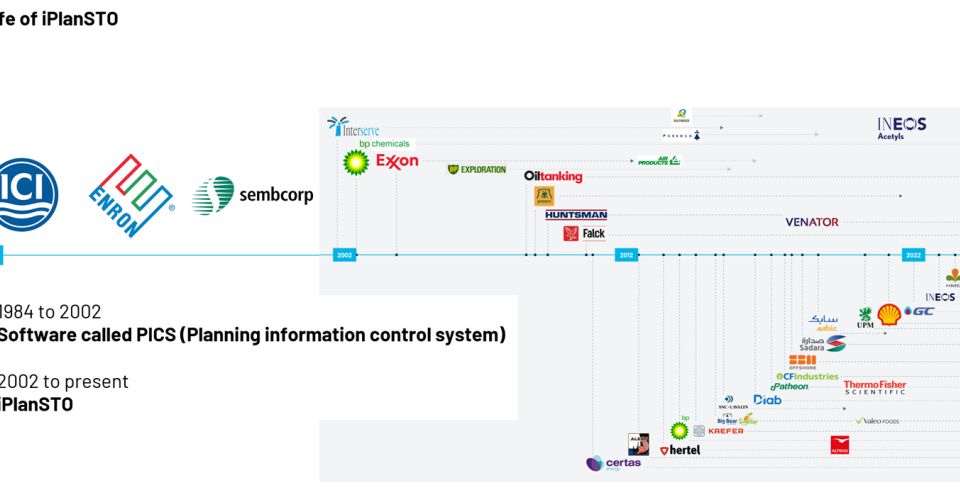 Dear Friends and Colleagues,
I'm filled with immense pride and gratitude for the almost 40-year-long journey we have shared together.
For four decades, our flagship product, iPlan, has been at the forefront of supporting plant asset owner-operators and maintenance contractors in the oil, gas, chemical, offshore, and energy industries.
This journey has been both humbling and inspiring, and I would like to take a moment to reflect on the values that have brought us here and our relentless passion for innovation.
Our values have always been the bedrock of our success. They bind us together, fuel our drive for excellence, and guide our decision-making. Here's a glimpse into the values that define us – as an acronym they spell CREATIVE:

Communication: Open and honest communication has always been our priority. We believe that by discussing and overcoming challenges together, we can achieve great things. If ever we find ourselves stuck, we never hesitate to ask for help, knowing that our colleagues are always there to support us.
Respect: Treating each other and our customers with respect is paramount. We strive to create an environment where everyone feels valued and appreciated for their unique perspectives and contributions.
Excellence: Our 40-year legacy has taught us the importance of leveraging our knowledge and skills to deliver the best service to our customers. We never shy away from learning and constantly improving our craft.
Accountability: We take personal responsibility for our tasks and always strive to give our best. We understand that our actions have a direct impact on the success of our company and our customers.
Teamwork: We work towards common goals, sharing achievements, and trusting our teammates to have our backs. When we fail, we fail as a team, learning from our mistakes and emerging stronger.
Integrity: We project our values in all interactions and hold each other accountable for upholding these principles. If we falter, we take it upon ourselves to remind one another of the values that define us.
Vision: We are always aware of our company's vision and actively work towards achieving the priority and goals set forth. Embracing change and positively contributing to it is an integral part of our journey.
Empathy: We respect our colleagues' and customers' life circumstances and strive to create a work-life balance that fosters a supportive environment.
It is through the steadfast adherence to these values that we have been able to grow and succeed. And our passion statement reflects this commitment:
"We are not trying to be the biggest; we want to be the best!"
We choose to work with people who embody our values and share our passion for excellence.
We take pride in the fact that we can share the learning from our mistakes with our customers, saving them time and money by helping them avoid the pitfalls we have encountered.
Our journey has taught us that true success lies in being able to create lasting value for our clients, and that is something we are deeply passionate about.
As we celebrate 40 years of iPlan, let us take a moment to appreciate how far we have come, driven by our shared values and passion for excellence. Our commitment to innovation and collaboration has made us a trusted partner in industry, and we will continue to forge ahead on this path for years to come.
To our customers, thank you for placing your trust in us and joining us on this incredible journey. To our employees, thank you for your unwavering dedication and for bringing our values to life every day. Your passion and commitment are what make iPlan the leading force it is today.
As we look towards the future, let us continue to be guided by our values, fuelled by our passion, and inspired by the endless possibilities that lie ahead. Together, we will continue to innovate, adapt, and grow, shaping industry and redefining what it means to be the best.
With gratitude and excitement for the future,
Ross Coulman
Managing Director, IAMTech