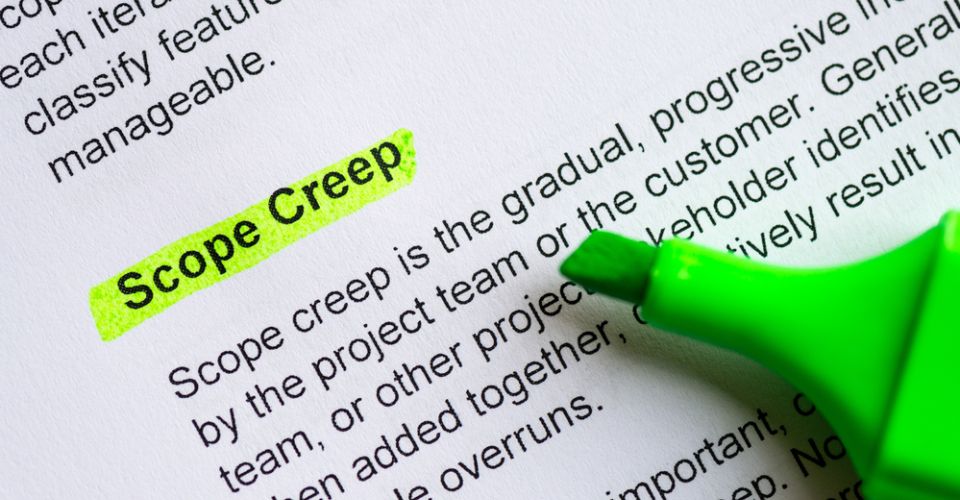 Scope creep is something that most of us in the industry have experienced.
It occurs when there is more work to do than you have accounted for, and importantly, more work than you have allocated time, resources, budget for.
If you are an external contractor or external service provider, it can be easy to feel scope creep is a deliberate ploy to get more out of you for less.
The reality is that in all probability it is much less premeditated, and the client / owner operator wants scope creep to occur even less than you do.
In most instances, scope creep is due to one, or a combination of the following factors: Poor scope definition, poor scope planning, poor scope estimation, poor communication.
With complex projects like shutdowns turnarounds outages, that require hundreds to thousands of workers, vast quantities of materials, coordination, specialist equipment, and many moving parts, it is easy to vastly underestimate the amount of effort involved and for events to quickly become highly inefficient due to poor resource management.
You could say it is outside the scope of what us mere mortals are actually capable of, regardless of our experience in industry or competence as leaders!
As a company specialising in industrial asset management, we at IAMTech have seen first-hand how inconsistent even the most experienced planners can be when estimating simple maintenance tasks, let alone more complicated scopes of work.
Please watch the video below to see why this is…
These miscalculations can quickly lead to either gross under or over calculation of the resources required to execute your event.
Consider for a moment the consequences of grossly under or over estimating labour & / or materials ….. Examples include but not limited to:
Engaging 3rd party maintenance contractors to provide too many, or possibly, too little number of trade personnel

Too many materials, leading to excess materials that have not been catalogued or can be absorbed into your stores post event

Too little of the materials required to maintain critical equipment during your time sensitive event

Too many resources working simultaneously in a location, leading to decreased safety
With the stakes this high, adding to costs through scope creep is a big risk to asset owner operators and 3rd party maintenance contractors alike!
As a contractor, the frustration of unbilled hours of work is very real, and if you fail to meet that deadline, it could result in penalties and an unsatisfied client.
As an asset owner operator, the costs of equipment downtime are significant, and will ultimately halt production income, affecting your bottom line. For all involved, falling behind, failing to complete the event in the plant offline window, is altogether a morale killer like no other.
So what is the solution? How do we mitigate the risks of scope creep? The best way is to nip it in the bud before it takes hold.
Here are 5 suggestions on how to avoid scope creep...
5 Tips to Avoid Scope Creep
1. Establish the Need and Parameters
Identify your key drivers for the shutdown, turnaround or outage (STO).
Accompany this with timelines and budgets and milestones that are aligned to physical assets. Once you have these, arrange a formal meeting with stakeholders to establish a more detailed timeline, identifying the sequence of tasks and dependencies that take the most time to complete.
Much can be learned from previous STO data, so be sure to make the best use of it when planning any new projects or estimating the timelines and work involved on your upcoming project. You can save a great deal of time and avoid duplication of effort by using shutdown learning from previous events and incorporating this into your scope of work.
2: Plan Every Aspect of Your STO Thoroughly
Be thorough from day one. Having concrete goals and declaring the scope to be your 'single source of truth' for data related to your STO will save many headaches down the line.
Take steps to make sure that every step of that scope is evaluated via a thorough scope approval process. Knowing what the C-level executive's goals are, and getting those signed off is fundamental. This will avoid large scope changes further down the line. Make sure they understand the full scope and encourage feedback.
For this purpose, an email will not suffice - arrange a meeting with the stakeholders approving the scope (timelines, budgets & milestones) to make sure nothing is missed. With this agreed, you will be in a good position to ask for more budget if or when more work is required.
3: Use specialist software and automation to improve efficiency
Use software that is tailored to the needs of shutdowns, turnarounds and outages, to break your projects down into discrete tasks with set deadlines. This will ensure you stay on track and that deliverables stay clearly defined and on schedule.
Software can drive efficiency by doing things like notifying maintenance crews via email when a task is approved to be executed, and it is time for them to do their part, meaning that the likelihood of meeting your targets is vastly improved by reducing idle time.
Gone are the days when you had to hurry from one end of the plant to the other and find a maintenance guide in the dusty filing cabinet. Having a digitised system where all information relevant to different stakeholders is instantly available will lead to large efficiency gains that can help ensure you work to time and budget safely.
The best in class software will include many more features to help mitigate the risk of scope creep.
4: Ensure you have the right team and a clear chain of command
With the scope, materials list and activities planned, make sure you have the right team to execute each task effectively. Knowing who does what, when and where is key to actioning and driving the project forward.
A well-organised chain of command holds everyone to account and ensures they know their role in the bigger picture, who to report to, and where to find relevant support or approval.
Having a skilled team also means that you have experts who will have good ideas for improvement, which can be good in theory, but ultimately lead to scope creep. It is easy to assume that most scope creep comes from above, through added tasks from operations or senior management. Whilst this is often the case, scope creep is sometimes the result of the aforementioned ambitious members of your shutdown team wanting to do things better.
Well-intentioned suggestions can quickly lead to more work, and can quickly spiral out of control, so be sure to follow your MoC (Management of Change) process when considering changes to avoid going over budget and missing your deadlines.
Don't hesitate to say no to changes if you feel that they could result in project delays.
5. Stick to your Management of Change process
Scope changes in projects as large and complex as turnarounds are inevitable. Make sure that you have a robust MoC that informs all stakeholders exactly what the procedure is when change happens.
Changes to scope should be carefully documented and measured against your baseline scope. This should include:
Materials and resources used

Associated costs

Time and labour

Person or people authorising the change
Have any changes approved and document each of these changes in detail, so there is a clear audit trail.
Store the documentation securely, as this will prove invaluable in the planning of any future STOs. Remember to update the baseline scope to include approved changes, ensuring that it remains your single, up-to-date source of truth.
Finally, ensure that these changes are effectively communicated to all stakeholders, so that everyone knows what the collective goal is.
Conclusion
Specialised software solutions make the complex task of planning shutdowns, turnarounds & outages less stressful and more efficient than with more generic ERP, CMMS, or EAM software systems…or simply spreadsheets - who in their right mind would try to plan and execute an STO only using SAP for example?! It cannot hold the necessary detailed information NOR does it have tools designed to drive STO stakeholders through a comprehensive scoping, planning, scheduling and execution process!
Having an STO focussed software solution will allow you to keep a closer eye on progress and milestones during the execution.
iPlanSTO from IAMTech is specialised software that enables you to organise, plan and execute your shutdowns, turnarounds and outages with greater efficiency, reducing the risk of major scope creep.
Management dashboards allow you to see every aspect of your STO progress at a glance, serving a central point for organising, planning, and executing your STO event.
iPlan can be integrated seamlessly with your existing ERP, EAM, or CMMS systems, providing unprecedented scope visibility for all stakeholders without compromising security.
It also includes a wealth of specialised features that can reduce the costs of maintaining the same equipment by up to 89%.
For more information about iPlanSTO, contact us today.